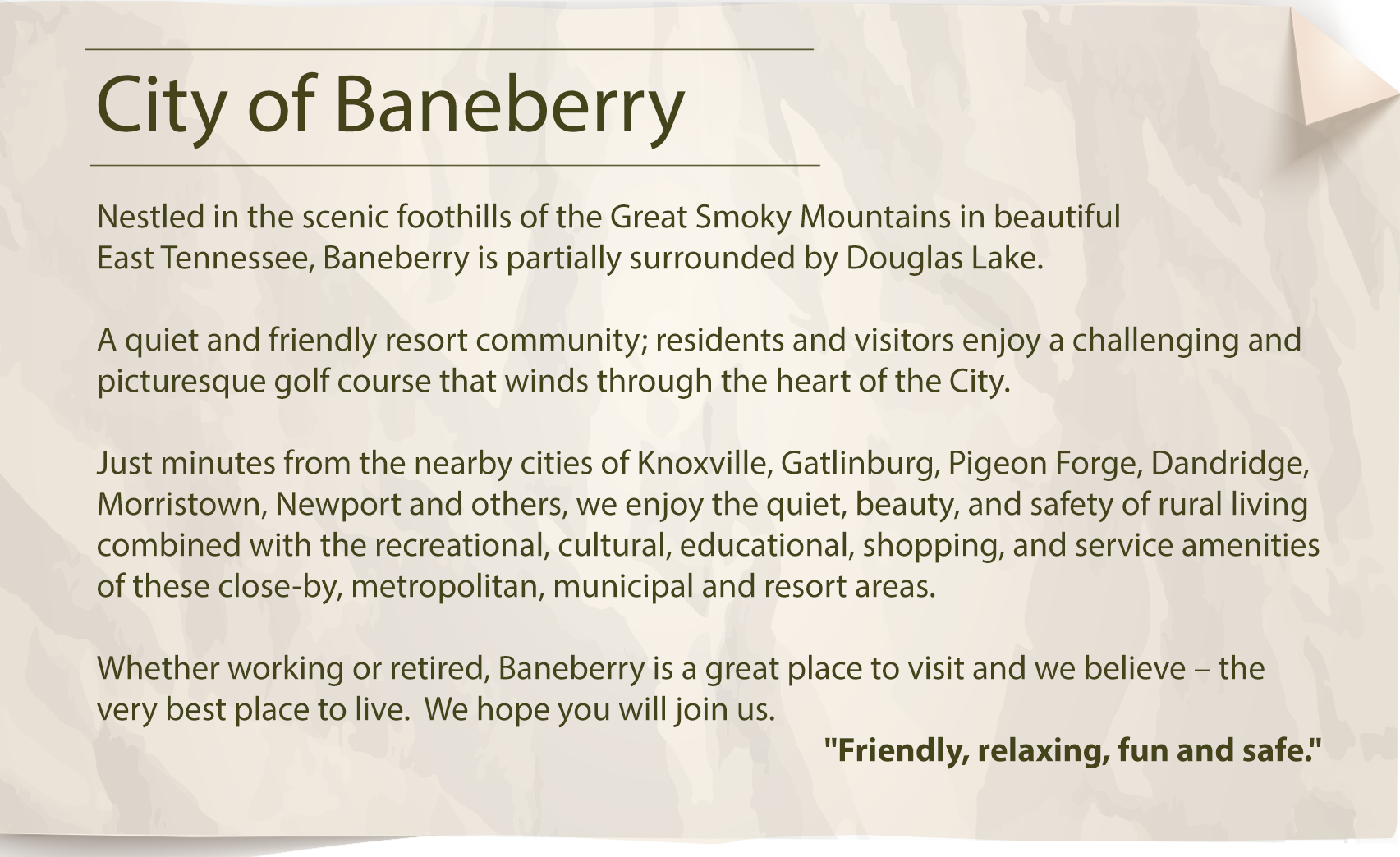 CITY OFFICE
HOURS OF OPERATION
521 Harrison Ferry Road,
Baneberry TN 37890
Mon: 8:00 AM – 1:00 PM
Phone: 865.674.0124
Tues: 8:00 AM – 1:00 PM
Fax: 865.674.8674
Wed: 8:00 AM – 1:00 PM
recorder@cityofbaneberry.com
Thurs: 8:00 AM – 1:00 PM
Are you on your cell phone?
Fri – Sun: CLOSED
Need hours of operation?
Scroll right>>
City of Baneberry is closed
on Federal Holidays.
FREQUENTLY ASKED QUESTIONS
---
BUILDING PERMIT
To obtain a Building Permit, all of the following documents must be submitted to the building inspector ten (10) days prior to the next scheduled Planning Commission meeting:
(a) Permit application: BUILDING PERMIT APPLICATION PDF
(b) Contractor information
(c) Permit fee
(d) Building plans
(e) Septic system permit
(f) The plot/site plan prepared by a surveyor or engineer
(g) Re-plat survey documents
For more information on Baneberry Building Permits visit our Building Permits page.
TRASH PICK-UP
Waste Connection of Tennessee, Inc. provides trash pick-up with the city of Baneberry. For service questions or issues call 865-522-0078 or 865-522-8161.
For more information on local services visit our Services & Utilities page.
CITY MEETINGS ARE HELD AT CITY HALL/COMMUNITY CENTER
FIRST MONDAY OF THE MONTH
Planning Board: 4:30 PM
City Commission: 5:00 PM
LAST MONDAY OF THE MONTH
Road Commission: 6:00 PM
LAST TUESDAY OF THE MONTH
Parks & Recreation: 5:30 PM
PARKS & RECREATION EVENTS 2022:
Jan 31: Parks & Rec Meeting, 5:30 PM – 2023 Recreational planning will be on the agenda
Dates and times are tentative. Any changes to upcoming events will be updated after the last Tuesday of each month, meeting. Flyers and social media posts with more detail will be posted prior to each event.