Nestled in the scenic foothills of the Great Smoky Mountains in beautiful East Tennessee is our quiet and friendly resort-style community—Baneberry.
Residents and visitors here enjoy an easy drive to the nearby cities of Knoxville, Gatlinburg/Pigeon Forge, Dandridge, and Morristown. If you're willing to drive a little further, Asheville, North Carolina, Kentucky Bourbon Trail, and a plethora of historical landmarks welcome you.
Touted as the safest city in Jefferson County, our residents relax in a rural setting but benefit from metropolitan-style shopping, service amenities, educational institutions, and recreational areas.
Whether employed or retired, Baneberry is a great place to visit—and we believe the very best place to live. Join us!
"Friendly, relaxing, fun, and safe."
BUILDING APPLICATIONS & PERMITS
Submit your Building Permit Application (click the link to view/download/print a PDF of the application) and the list of items below to the City Office:
1. Copy of a plot plan showing boundary lines, setback lines, and location of the structure on the lot with certified surveyor's seal, date, and signature.
2. Copy of approved permit from the Tennessee Department of Environment and Conservation for construction of subsurface sewage disposal system.
3. Copy of building plans/blueprints with sufficient detail and clarity to indicate the nature of the work.
4. If re-platting, a copy of the new approved plat map.
5. Check made out to "The City of Baneberry"
A non-refundable $50 permit fee plus inspection cost of $175 for each inspection will be paid prior to scheduling. A new build requires a minimum of five inspections. Detached garage requires a minimum of three inspections. Owner is responsible for any additional inspection or failed inspection fees at a cost of $175 for each.
For more information on Baneberry Building Permits visit our Building Permits page.
TRASH PICK-UP
Waste Connection of Tennessee, Inc. provides trash pick-up with the city of Baneberry. For service questions or issues call 865-522-0078 or 865-522-8161.
The Jefferson County Sanitation Department operates the county landfill and nine waste disposal convenience centers for county residents.  City of Baneberry residents may take recycling to the Convenience Center at 1376 Leadmine Rd, White Pine, TN 37890.

For more information on local services visit our Services & Utilities page.
SOCIAL & ENTERTAINMENT COMMITTEE
A Div. of PARKS & RECREATION
2023 SEC EVENTS
Wine & Dessert Night info including Baneberry Wine Club offering and food pairing handout
Dec 7 | Thur: Fuzed Glass Ornament making class, 6PM-8PM. Limited spots available—please RSVP. $35 per person for supplies.
Dec 17 | Sun: Annual Holiday Golf Cart Parade & Soup Potluck Party. Neighborhood carolers will ride in the parade.
Dates and times are tentative. Any changes to upcoming events will be updated after the last Tuesday of the prior month's meeting and posted to the website. Flyers are hung outside the City Office/Community Center and the Mail Center. Social media updates are posted prior to each event.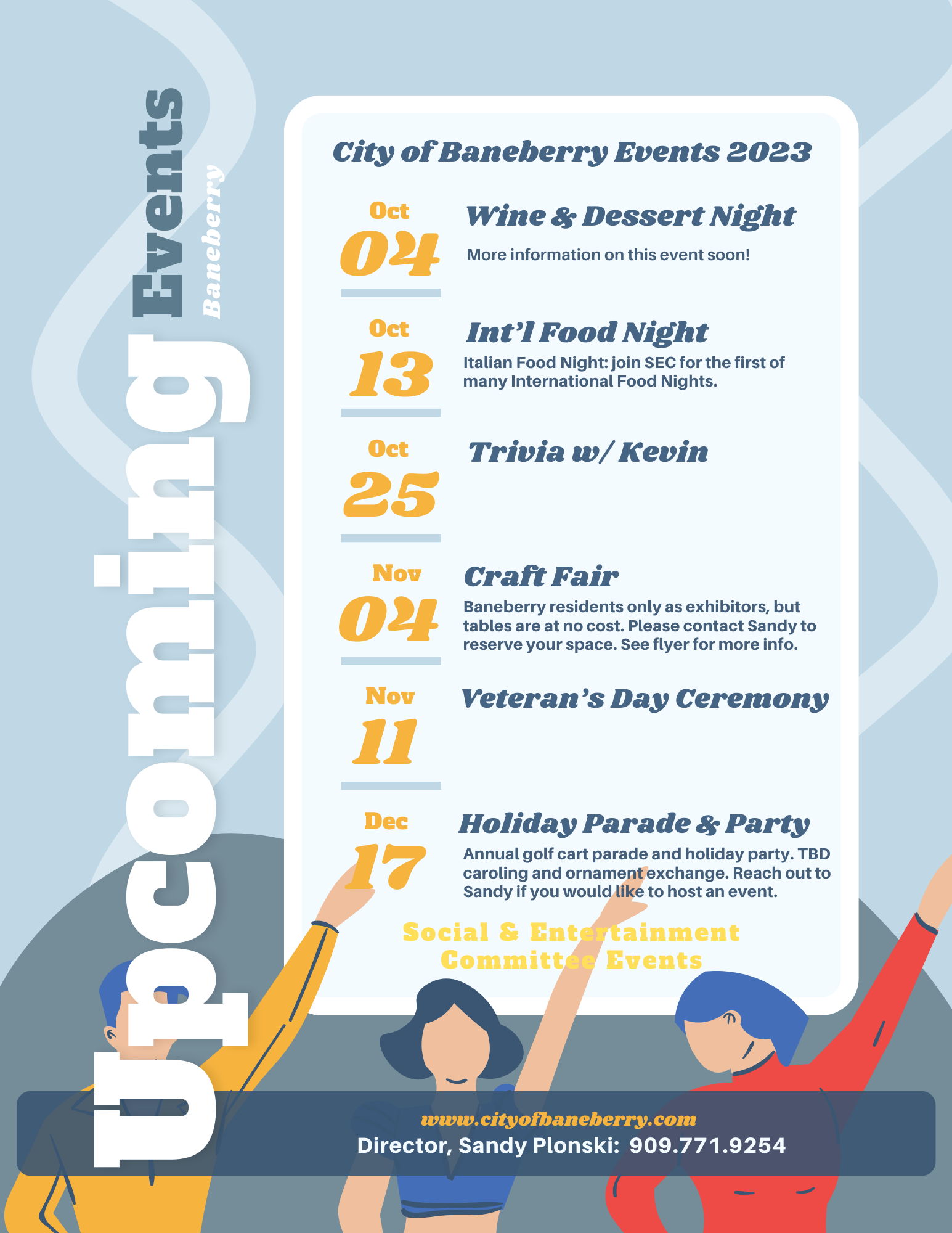 CITY MEETINGS ARE HELD AT CITY HALL/COMMUNITY CENTER
FIRST MONDAY OF THE MONTH
Planning Board: 4:30 PM
City Commission: 5:00 PM
LAST MONDAY OF THE MONTH
Road Commission: 6:00 PM
LAST TUESDAY OF THE MONTH
Social & Entertainment Committee (a division of Parks & Recreation): 5:30 PM
521 Harrison Ferry Road,
Baneberry TN 37890
Phone: 865.674.0124
Fax: 865.674.8674
recorder@cityofbaneberry.com
Hours of operation
Mon: 8:00 AM – 1:00 PM
Tues: 8:00 AM – 1:00 PM
Wed: 8:00 AM – 1:00 PM
Thurs: 8:00 AM – 1:00 PM
Fri-Sun: CLOSED
City office is closed all Federal Holidays.